Wilderness Workshop lambastes Trump's environmental record after one year in office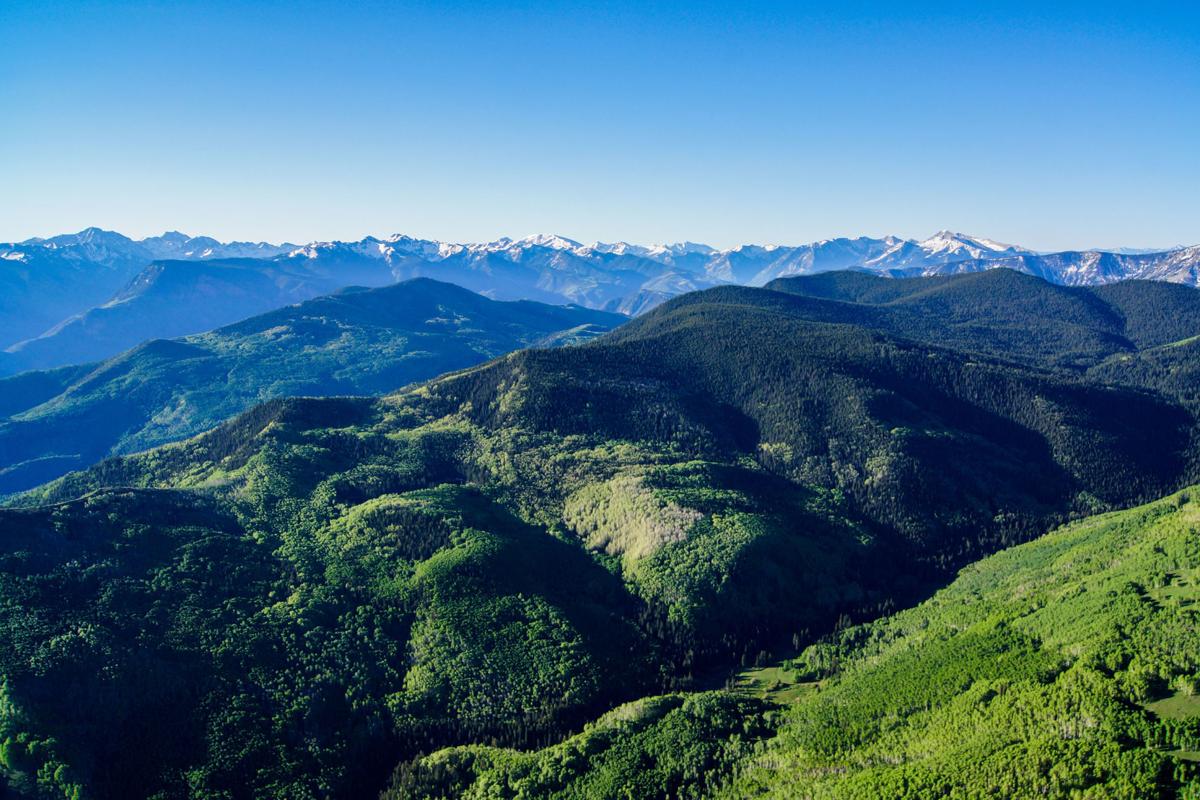 f
From the sometimes-insular vantage point of lofty outposts like Aspen, the environmental record associated with the Trump administration might seem distant, even abstract. After all, the chances of vast swaths of public land at the upper end of the Roaring Fork Valley being transferred to state or private ownership seems remote. As are the chances of a coal mine suddenly blighting the views from atop Aspen Mountain. Such environmental affronts would simply not be conceivable, much less allowed.
But the social and geographic remove from what is being perceived as the most anti-environment administration since that of Ronald Reagan and his notorious Secretary of the Interior James Watt are anything but distant. Like it or not, Trump's war on the environment is flowing against the current of the Roaring Fork River and inching its way upstream toward the roundabout.
Carbondale-based Wilderness Workshop (WW), which celebrated its 50th anniversary last year, recently decided to take the step of aggregating some of the Trump administration's most noteworthy environmental sins and then to lay those sins as close as possible to the doorstep of the city that thinks of itself as America's canary in a coal mine.
"The Trump Administration's anti-conservation agenda of the past year has been the worst in memory at the Wilderness Workshop," Justin Patrick, WW's communications manager, wrote in the introduction to a report making the case against the administration's environmental policies. "We have been scrambling to keep up with the assaults emanating from Washington, D.C., as well as those filtering down locally, that would have a negative impact on the clean air, clean water and healthy public lands prized by locals and visitors alike.
"This is a somewhat unique scenario for us, but we put together an extensive [report] about the most egregious attacks on the environment with local impacts that we saw in the first year of the Trump Administration," Patrick continued. "It's been such a whirlwind over the past year, it's important to take time to review it all and think about the overall direction we seem to be going."
The release covers five full pages. It was researched and compiled by WW's staff attorney, Peter Hart, who splits his time between Carbondale and his home in Grand Junction.
"The inspiration was Trump's State of the Union address," said Hart, who has been with WW for 10 years. "We decided to take a look back at Trump's first year and catalog the things that we have been working on or that are of interest to our members. The Trump administration has substantially rolled back many of the environmental protections established by the previous administration."
At the top of the list lies basic access to information held by the various federal land-stewardship agencies.
"A week or so ago, [Secretary of the Interior Ryan] Zinke released a memo outlining some very specific regulatory rollbacks at Interior that would minimize the scope and effect of the Freedom of Information Act (FOIA), a tool we use often to get information from the federal government," Hart said. "The intent is to limit the number of requests any one group could submit, increasing redactions and the amount of information released to the public. It's just one more thing."
A local manifestation of those FOIA modifications might be seen in a case involving the nonprofit organization Colorado Wild Public Lands, which has initiated a lawsuit against the Bureau of Land Management (BLM) — part of Zinke's Interior Department — regarding the controversial Sutey/Wexner Land Trade. The Basalt-based group is challenging the process that allowed more than 1,200 acres of public land adjacent to a private ranch on the north flank of Mount Sopris to be given away in exchange for a 557-acre tract abutting the Red Hill recreation area outside Carbondale and 112 acres near Prince Creek (the trade also privatized around 200 acres near Horse Mountain near Eagle). CPWL might be denied access to critical information germane to their lawsuit and what information that might be provided could easily include significant redactions.
"The same [Zinke FOIA] report details agency plans to broaden the use of exemptions from public-disclosure for information provided to BLM by state and local governments, and to prohibit the awarding of attorney's fees in successful litigation against BLM under the Equal Access to Justice Act," Hart wrote.
If that seems a bit ethereal to people living in and visiting the Aspen area, all they need to do is lift their gaze toward the Thompson Divide, on Carbondale's western horizon — where much land is controlled by the BLM — to see how close the Trump administration's environmental threats actually are.
"The administration has been increasing the number of oil and gas parcels auctioned and approving these new lease sales with less-thorough analysis," Hart wrote in WW's report. "That is less efficient for everyone, and it reminds us of rushed leasing decisions during the Bush administration that have taken years and millions of taxpayer dollars to resolve. This is the same problem that resulted in the illegal sale of leases in the Thompson Divide years ago, and we are gearing up for more of the same in coming months and years."
An example, according to Hart, is streamlining the National Environmental Policy Act — NEPA — to increase use of existing "categorical exclusions" for a wide range of oil and gas leasing and drilling activities, which exempt the BLM from complying with requirements to analyze environmental impacts and be transparent in decision-making.
"The administration also has plans to broaden use of 'Determinations of NEPA Adequacy' for a wide range of leasing and drilling activities, which is another way around obligations to ensure decisions have been adequately analyzed and vetted by the public," Hart said.
These concerns, of course, transcend this neck of the woods.
According to Hart, the BLM is selling off or leasing millions of acres adjacent to national parks and in areas with important and uninventoried cultural resources.
Gas leak
The Trump administration, according to Hart, has also been working tirelessly to suspend the Bureau of Land Management's methane waste rule, which comes into play in the oil and gas fields that people from Aspen pass on their way to mountain bike in Moab.
"The rule was implemented to protect human health, reduce the amount of natural gas that is wasted from drilling for and producing our oil and gas, help our fight against climate change and save taxpayers money," Hart wrote. "WW and a coalition of 17 environmental and tribal citizen groups, along with the states of California and New Mexico, filed a legal challenge, calling the suspension arbitrary and capricious.
"The court issued a preliminary injunction against Zinke's Suspension Rule on Feb. 22," Hart continued. "We will continue fighting this administration's efforts to rollback sensible regulations that protect public lands, public health and a livable climate."
The Aspen Ski Company also advocated for implementation of the methane rule, according to Hart.
Add to the long list of offenses what Hart calls the Trump administration's unwillingness to integrate public input into its decision-making process.
"During the hurried review process to reduce the size of Bears Ears and Grand Staircase-Escalante national monuments, the Trump administration received more than 2.8 million public comments, 99.2 percent of which opposed any reductions in protections," Hart said. "Similarly, according to the Conservation in the West poll, 70 percent of Coloradans think it was a bad idea to reduce the size of Utah's monuments."
Yet, both of those national monuments were significantly reduced in size late last year
Then, there is the 800-pound gorilla: climate change.
"The Trump administration is attacking efforts to consider or curb the impacts of climate change and undermining strides we've made to ensure a more livable future on this planet," Hart said. "This is a huge problem for local public lands, wildlife and economies. The number of frost-free days in Aspen has increased from an average of 73 per year in the 1950s to 107 in the 2000s due to global warming.
"This means we're experiencing longer summers and earlier snowmelt," Hart continued. "We're also seeing more precipitation arriving as rain rather than snow and longer dry periods with heavier precipitation events in between. These changes result in higher wildfire danger, place extra pressure on already-stretched water supplies, stress native plants and wildlife and present challenges to ski area operators, farmers and ranchers, as well as other local economic drivers. Basically, climate change is completely altering the way that local ecosystems function, and the way that we interact with local public lands."
Hart cites as examples the Jan. 20, 2017, decision to eliminate any reference to climate change on the White House website, Trump's decision to withdraw from the Paris Climate Accord and the March 28 executive order rescinding Obama's Climate Action Plan and Climate Action Plan Strategy to Reduce Methane Emissions presidential reports.
"Trump's executive order revokes an Obama executive order preparing the U.S. for the impacts of climate change, two 2013 presidential memorandums on power-sector carbon-pollution standards and resource mitigation and the Council on Environmental Quality's greenhouse gas emissions and climate change guidance," Hart said. "It also ordered review of the Obama-era Clean Power Plan and 'all agency actions that potentially burden the safe, efficient development of domestic energy resources.'"
The Clean Power Plan was subsequently revoked by the Trump Administration in October of 2017.
A grand strategy
Reaction from two local movers and shakers to WW's press release/report has been very supportive.
"First, I really appreciate Wilderness Workshop's expanded focus over the years to include climate issues like methane," said Auden Schendler, a member of the Basalt Town Council, vice-president for sustainability at the Aspen Ski Co. and author of the book, "Getting Green Done." "Unlike many in the lands-conservation movement, they are uniquely recognizing that the two issues — climate and land — are linked. If we protect land, we can stop greenhouse gas emissions. If we stop emissions, it protects land over the long term.
"My second observation," Schendler continued, "is that we think of the Trump administration as bumbling and cartoonish. Think Kelly Ann Conway and the notion that we should arm custodians. But on the environment, these guys have a cyborg-like efficiency. They are making extremely damaging and hard-to-undo surgical strikes on key, and often obscure, issues, like the BLM methane rule that WW brings up, or the fee on solar panels, which seems counterintuitive even to their philosophy, because it will cost American jobs, or downsizing Escalante/Grand Staircase to open up the coal fields on the Kaiparowits Plateau. How can it be that they're so good at being bad? It's because these guys are owned by Koch-funded groups like Heritage Foundation and American Enterprise Institute. They've been studying this stuff for years, they know exactly what to do, and they are pulling all the levers."
Greg Poschman is an Aspen native, a three-time Emmy-Award-winning film documentarian and a first-term member of the Pitkin Board of County Commissioners.
Speaking for himself and not as a member of the BOCC, Poschman said of the WW press release, "The Trump/GOP agenda of promoting and subsidizing 19th-century power at the cost of energy conservation and modern renewable energy is plain wrong, now that it is cheaper to produce electricity with wind and solar in Colorado than it is to mine, burn and clean up after coal, especially when you consider the health consequences and the chronic boom/bust cycle of an extraction economy.
"The rush to lease or sell off land for exploitation is driven by the same urgency bank robbers and 'smash and grabbers' must feel when they blow a safe or loot a convenience store," Poschman continued. "We are told by the likes of Earth Justice and Wilderness Workshop that all the hasty actions to roll back environmental protections will not to stand up in court, so the current administration uses a shotgun approach to see what sticks. What does stick even temporarily will reduce the value of our public lands and the quality of life for all."
Poschman views Trump's war on the environment through a local-centric prism.
"Pitkin County is unique among rural western counties in that we aren't forced to sell off our public lands to maintain our basic infrastructure, like roads and bridges," he said. "Our surrounding natural environment is our most valuable asset. I can foresee the time when we must direct the use of Open Space funds to maintain and protect those public lands, which are being compromised by state and federal budget cuts. To some extent we are already doing this in our most-visited areas.
"Limiting public input and transparency in public lands management is the heinous work of con men and fly-by-night opportunists," Poschman continued. "They know their days are numbered, so they grab what they can. It is time for the people who own these lands and care about them to actually care for them. It is time for America's western citizens to stand up for public lands, along with the other burgeoning citizens' movements, which have decided to end the political careers of the complicit and corrupt. I urge conservation-minded citizens to vote the environment."
The problem, according to Hart, is that is can take decades to undo damage done by an administration that values profit over protection.
"It has taken us the last 10 years to right some of the decisions made by the last Bush administration," he said. "The lease-before-you-look oil and gas leases on the Thompson Divide are good examples. During the first few months of the Trump administration, it seemed like the wheels weren't in motion. But now they've really gotten in gear.
"We are dealing with the BLM's decision to remove several state directors from those positions, including the removal of Ruth Welch from her position as the Colorado state director, after they made pro-environment decisions," Hart continued. "This may be a part of their strategy, to leave key positions unfilled."
Poschman concludes by saying, "I would ask those who feel depressed by the degradation of our public lands, air and water to work for a better way. 'Apply hope,' as Amory Lovins says. We simply have no choice but to be optimistic that positive change will come on the national level, and we will have to make it happen, however we can."
Hart's conclusion is less rosy.
"We don't need a crystal ball to understand the implications of Trump administration actions," he said. "Shrinking monuments, eliminating safeguards and shutting the public out of decision-making will have real effects. These actions reverse steps taken to protect public health, clean air, clean water and a livable climate. These actions undermine public trust in the federal government and portend years of time-consuming and costly litigation — all to line the pockets of industrial polluters and corporate interests that support Trump's agenda. It has been a disappointing year to say the least."
Note: Two attempts were made via email to get comment regarding WW's report from Colorado Senator Cory Gardner, a Republican. There was no acknowledgment, much less response, to either attempt.
To link to the WW press release, including sourcing, go to: http://www.wildernessworkshop.org/library/news/trump-administration-attacks/