Original article: https://www.aspendailynews.com/news/permanent-protection/article_67a73abe-9aea-11e9-a310-ffe810b2fc92.html
Chad Abraham, Aspen Daily News Staff Writer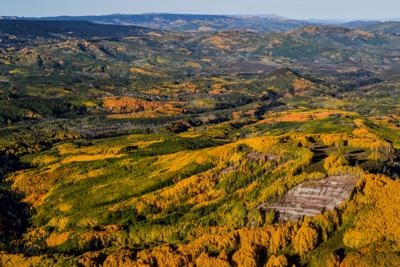 Scores of individuals and organizations are supporting the blocking of new oil and gas development in the Thompson Divide area. A bill aimed at that goal as part of the CORE Act emerged from a congressional committee last week and is headed to the House floor.
Jane Pargiter/EcoFlight
As Jason Sewell points out his great-great-grandfather's framed homestead patent for ranchland on the eastern edge of the Thompson Divide, it's easy to appreciate just how much history the land outside Carbondale carries.
Signed by President Grover Cleveland in 1893, it gave Myron Thompson, for whom the Divide area and a creek is named, 120 acres on what is now property owned by the nonprofit Sustainable Settings operation. Sewell and others who founded the Thompson Divide Coalition to seek permanent protection from new oil and gas development in the area consider both the future and the past, and of the former, they like what they see.
The Colorado Outdoor and Recreation Act, which would block new extractive leases on the Divide's 200,000 acres, was passed by the House Natural Resources Committee on Wednesday — the furthest such potential protection for the area has ever reached. The CORE Act, introduced in January by U.S. Rep. Joe Neguse, a Boulder Democrat, and U.S. Sen. Michael Bennet (D-Colo), now moves to the House floor.
Pitkin County Commissioner Greg Poschman, ranchers Bill Fales and Tai Jacober, representatives of Wilderness Workshop and the Thompson Divide Coalition, and others went to Washington, D.C., last week to support the sweeping 400,000-acre public lands bill.
After over a decade of attempts to protect Thompson Divide, supporters said they are cautiously optimistic about the legislation but are still hoping to get the backing of the Garfield County commissioners and U.S. Rep. Scott Tipton, who are against the CORE Act. Sen. Cory Gardner (R-Colo.) is neither supporting the act nor moving to block it.
For Poschman, though, the part of the bill that will create the Camp Hale National Historic Landscape "makes me especially proud," he said in a release posted on Bennet's website. "My father, Sgt. Harry Poschman, was with Mountain Training Group at Camp Hale for the 10th Mountain Division during World War II. The CORE Act ensures that the hallowed grounds around Camp Hale will be revered in perpetuity for our veterans, and for Coloradans who can all take pride in being heirs to the mountain troops who fathered our modern skiing, conservation and outdoor recreation culture.
"Before we see the last of the 10th Mountain Division ski troopers pass on in the next few years, the U.S. Senate and Congress have a golden opportunity to recognize and honor the 10th Mountain Division through preservation of this landscape," he wrote.
'Very hopeful' that Congress will listen
Jason Sewell, who owns a ranch outside Carbondale, was a founding member of the Thompson Divide Coalition. Should the CORE Act make it out of Congress and be signed by President Trump, proscribing oil and gas development in Thompson Divide, TDC would likely disband. TDC is a one-issue organization, and representatives prefer to spend time on matters other than board meetings.
Craig Turpin/Aspen Daily News
On his scenic ranch up the Crystal, Sewell uses Thompson Creek water for cattle, other livestock and crops — including a vegetable farm that produces 60,000 pounds of produce annually.
He said he's "very hopeful that our senators and congressmen will listen to their communities and constituents who are directly affected by these areas, instead of industry and party-line politics."
For Jacober, who uses the land to raise hormone- and antibiotic-free cattle, the impact of the bill's passage will be critical: "The CORE Act is really an important part of running a ranch in Colorado, because it provides important grazing lands during the summer months that have been relied on for many generations," Jacober told publicnewsservice.org.
And the CORE Act is far from simply a local measure only. It would protect four separate landscapes: Thompson Divide, acreage on the Continental Divide near Vail and in the San Juan Mountains in southern Colorado, and the Curecanti National Recreation Area outside Gunnison.
Bills to protect those lands have been introduced before in Congress, but gained little traction, and the CORE Act "pulls those four pieces together to form a statewide public lands bill," said Will Roush, executive director of Wilderness Workshop.
If passed, the legislation would constitute a mineral withdrawal for Thompson Divide. It would not impact any current uses, including existing leases and natural-gas storage wells used by Black Hills Energy.
The area has already been the subject of some federal protections, including the U.S. Forest Service in 2015 deciding the White River National Forest portion of the area — that is largely in Pitkin and Garfield counties — was not appropriate for oil and gas well development. But that only comprises about half of Thompson Divide, the decision is only in place for 20 years, and a presidential administration can overturn it, Roush said.
"There is nothing saying this is going to last 20 years no matter what," he said. "And it's a weaker form of protection compared to what Congress can do with a mineral withdrawal."A sunset captured on the Thompson Divide. Outdoor lovers have heavily supported the CORE Act.
Jon Mullen
Passage of the CORE Act would be akin to the protection afforded to the Maroon Bells-Snowmass Wilderness, which is more or less permanent, he said.
"It says Congress is protecting this area from oil and gas, and it's very unlikely that that would change," he said. "Certainly the Forest Service couldn't change [the mineral-withdrawal designation], only Congress could."
Backers of Thompson Divide protections also received a large boost in 2016, when the Bureau of Land Management canceled 25 oil and gas leases. The agency determined it had violated National Environmental Policy Act processes. In Roush's words, the leases were issued "in violation of numerous environmental laws," but the cancellations, while a significant victory, also did not constitute permanent protection.
"I'm pretty optimistic. It's definitely not a done deal," he said of the CORE Act, noting Tipton's opposition and Gardner's neutrality. "But it's got an amazingly diverse set of supporters, from veterans who care about the Camp Hale part of it to mountain bike groups, lots of folks from the outdoor industry, which is a pretty dominant force in Colorado. For the Thompson Divide, there's a whole bunch of folks in the ranching community, huge amounts of local governments, lots of businesses."
Gunnison Energy has supported the measure, working with Bennet's office on Thompson Divide boundaries, and the West Slope Colorado Oil and Gas Association had some concerns but has not voraciously opposed the CORE Act, Roush said.
Julia Morton, a consultant working with the Thompson Divide Coalition, said the CORE Act has garnered support from ranchers, hunters, anglers, snowmobilers, rock climbers and others who consider the outdoors critical. The municipalities of Carbondale and Glenwood Springs, along with Pitkin and Summit counties, are backing the measure.
"I think how fast the CORE Act is moving through Congress is a testament to how much work has gone into not just the Thompson Divide portion but every single portion," Morton said. "I think it's really exciting."
Heading east for the West
Numerous crops, including vegetables and hay, grow on ranchland near Carbondale. Clean creek water for such crops would be ensured under the CORE Act.
Craig Turpin/Aspen Daily News
Poschman, Roush, Morton and other locals traveled to D.C. to meet with staff members of Tipton and Gardner's offices. Roush called the meeting with Tipton's office "substantive," as they were able to hash out a few changes to boundaries and language. Gardner's staff, like their boss, remained non-committal, he said.
Still, Roush said there is reason for optimism.
"This is the farthest that legislation with permanent protections of Thompson Divide has ever gotten," he said. "This is the first time it's been introduced in both the House and the Senate, and the farthest a bill has made it in either chamber.
"There's momentum."