WILDERNESS PROTECTION AND THE ART OF COMPROMISE
Wilderness legislation in the U.S. increasingly requires broad support from a variety of constituents who may or may not see eye to eye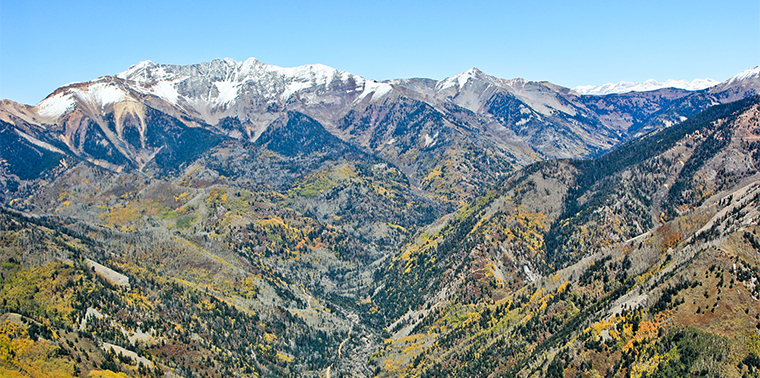 December 29, 2014 — On Sept. 3, 1964, U.S. President Lyndon B. Johnson signed the Wilderness Act into law, officially setting aside 9.1 million acres of federal land "where the earth and its community of life are untrammeled by man, where man himself is a visitor who does not remain." The act established a mechanism for preserving additional federal lands under its aegis in the future.
In the half century since, Congress has designated more than 109 million acres of federal land as wilderness. But in recent years, wilderness bills have languished. While an average of 14 new wilderness bills were passed each year between 1990 and 2009, only one passed between then and last month.
"There is a pattern of lands bills piling up in Congress," says Scott Braden of Conservation Colorado, one of many groups trying to earn wilderness designation for land in the American West.
Setting aside land from development is becoming increasingly onerous, with population and demand for energy both booming.In December 2014,  Congress broke that pattern by sending a package of land conservation bills to the President's desk to sign into law in what was the most significant piece of land conservation legislation passed since 2009. All told, the bills — which were added to a defense spending bill — protect more than 1 million acres of national parks, wilderness areas, and wild and scenic rivers.
Still, setting aside land from development is becoming increasingly onerous, with population and demand for energy both booming. More and more, bills to protect public lands are being formulated in a way that, rather than setting lands aside to remain completely untrammeled, would carve them up into various "use areas" — pure wilderness, motorized vehicles, energy extraction and other uses — in order to garner sufficient support to attract a congressional sponsor.
While such compromises may be difficult to bear for conservationists, "it's now a necessity," says Bruce Gordon, founder and executive director of EcoFlight, an Aspen-based company that uses small aircraft to advance the protection of wild lands.
To illustrate the complexities involved in setting aside wilderness in the U.S. today, last October Gordon flew a group of students, lawmakers and journalists, including me, over several areas in the West where wilderness bills are under consideration.
Split-Level Protection
Our first stop was Durango, Colo., where a wide array of conservationists, outdoor enthusiasts and industry groups are trying to protect a 37,000-acre parcel of land under the Hermosa Creek Watershed Protection Act, introduced in the Senate last year by Colorado Sen. Michael Bennett. After six years of gridlock and disagreement, the various Hermosa Creek protection advocates — including pure wilderness proponents, hunters, anglers and all-terrain vehicle enthusiasts — split the watershed into three parts with three different levels of protection, so mountain biking, grazing, timber and mineral rights were protected along with pure wilderness.
"Everybody at the table gave something up, and everybody got something," said Jeff Widen, associate director of The Wilderness Society — one of the groups involved in the effort.
And it paid off. The Hermosa Creek Wilderness is one of the five bills passed at the end of 2014 that, all told, protects 244,970 acres of new wilderness, including an addition to the Bob Marshall Wilderness in Montana, the creation of the Columbine-Hondo Wilderness in New Mexico, and the Pine Forest Range and Wovoka wildernesses in Nevada.
Consolidate and Preserve
Stop two: Jackson Hole, Wyo., where a wide array of groups are trying to protect some 44,000 acres from oil and gas leasing in the Wyoming Range, near the Idaho border. The U.S. Forest Service announced in March that it plans to study the land for potential leasing for oil and gas operations — a plan that was immediately met with fierce opposition from a wide array of outfitters, sportsmen and conservationists, who have been fighting development in the area for more than a decade. They have been largely successful: When the USFS initially proposed leasing land for oil and gas in the region in 2005, the grassroots coalition objected, and its efforts ultimately led to the passage of the Wyoming Range Legacy Act, which made 1.2 million acres in the mountain range off-limits to oil and gas leasing. The same coalition worked to raise $8.75 million to buy and retire oil and gas leases on 58,000 acres in 2012.
Dan Smitherman, an outfitter and activist with the groupCitizens for the Wyoming Range, attributes the group's success to "two qualities that characterize the Wyoming personality: independence and perseverance."
Cowboys and conservationists are not traditionally natural allies, but in Wyoming, where recreation is second only to mineral extraction as the state's top industry, they have worked well together. Peter Aengst, director of the Northern Rockies office of The Wilderness Society credits Smitherman with bringing the two sides together.
If the USFS decides to lease the 44,000 acres, at least five energy companies could begin developing drilling projects in the middle of popular elk hunting camps, grazing allotments, fishing holes and camping areas. A decision is expected sometime in 2015.
Fine Line
Stop three: Utah's red-rock country, where wilderness advocates including the Sierra Club and the Natural Resources Defense Council are hailing a conservation plan they hammered out with conservative Utah Congressman Rob Bishop as a model for "balance and collaboration."
The plan is intended to provide a framework for legislation Bishop will introduce. It identifies 82,408 acres of federal land for wilderness designation and an additional 31,083 acres for a separate conservation designation to preserve wildlife and habitat. The plan also would speed up energy development in the Uinta Basin and other regions, a nod to complaints by some Utah officials that only about a third of Utah's land is state-controlledand tax generating.
But even those on the protection side don't see eye to eye.
Hikers "want a peaceful, serene setting and here come 40 guys on ATVs," says Brent Caine, a dirt bike enthusiast who got on board with the effort, but with reservations. Caine doesn't want public lands to be closed off to all vehicles, but he doesn't want them open to everything, either. "It's a fine line, because I cannot stand driving on top of the mesa and seeing fracking," he says.
Utah county officials want Bishop's bill to promote fossil fuel development, including unconventional, carbon-intensive fuels such as oil shale and tar sands that environmentalists have vigorously opposed over concerns such development will accelerate climate change and drain water sources in this desert region.
Conservationists, meanwhile, are pressing President Barack Obama to declare 1.4 million acres around Utah's Canyonlands National Park a national monument, infuriating county officials who object to what they see as federal overreach.
Invariably, any discussion of wilderness bills includes talk of compromise between these users. According to Braden, during "the heyday of lands bills" in the 1980s and '90s, President Bill Clinton protected more land, mostly by executive order, than any president except Jimmy Carter and Teddy Roosevelt, the architect of the national parks system. Clinton sealed his green legacy bydesignating Grand Staircase–Escalante in Utah as a national monument under presidential proclamation.
Intrinsic Value
Everywhere we had traveled, there was talk of "user groups" and what they want from the land. Invariably, any discussion of wilderness bills includes talk of compromise between these users.
But that doesn't mean everyone thinks it should be that way.
Toward the end of our trip, weather meant our stay was unexpectedly extended in Jackson Hole, where a week-long series of events commemorating the 50th anniversary of the Wilderness Act was wrapping up with talks. There, Howard Zahniser, whose father was the architect of the Wilderness Act, provided a striking counterpoint to these compromises, arguing that protecting wilderness is more about ethics than utility.
"My father was always very explicit that the wilderness movement was not against civilization," he said. Rather, "wilderness was construed as part of a Great Society," part of a package of social legislation in the 1960s that included Civil Rights and union protections for workers. Zahniser said that wilderness has intrinsic value.
"'Untrammeled' means that we not project our designs on it but appreciate it for what it is," he said. "Knowing that wilderness is there is of very high value."