TED McDERMOTT ted.mcdermott@mtstandard.com
Apr 22, 2018
Fight over wilderness study areas lands with county commissions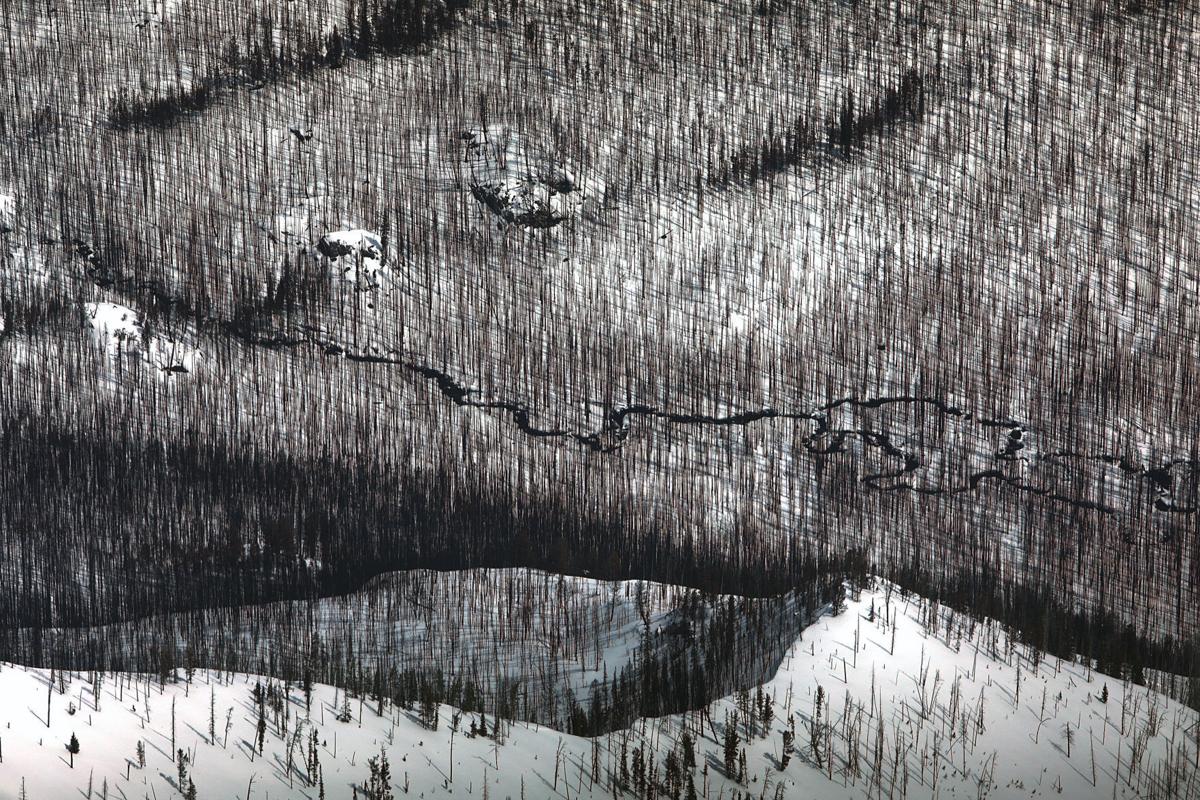 Late Wednesday morning, a six-seat, single-prop airplane took off from Bert Mooney Airport and headed west toward the expansive patchwork of public lands that lie among the Pioneer, Sapphire, and Anaconda ranges.
The plane was flown by two pilots from EcoFlight, a nonprofit that "educates and advocates for the protection of remaining wild lands and wildlife and habitat using small aircraft." In back were two journalists from The Montana Standard and John Gatchell, a senior conservation adviser for the Montana Wilderness Association.
As the plane cruised over snow-capped peaks, wandering streams, and seemingly endless tracts of unoccupied land, Gatchell's voice came crackling over the headset: "The legislation we're looking at now is a direct assault on the legacy left by Senator Metcalf."
Sen. Metcalf, of course, was Lee Metcalf, a Montana Democrat who served in both the U.S House of Representatives and the U.S. Congress for a quarter of a century, during which time he helped pass landmark environmental legislation, including, in 1977 — a year before his death — the Montana Wilderness Study Act.
That act helped establish nine wilderness study areas spanning nearly a million acres in the state, three of which lie in western Montana: the 151,100-acre West Pioneer WSA, the 94,000-acre Sapphire WSA, and the 61,000-acre Blue Joint WSA.
The act stipulated that the Secretary of the U.S. Department of Agriculture "shall, within five years after the date of the enactment of this Act" review these study areas "as to their suitability for preservation as wilderness, and report his findings to the President." As wilderness, the lands would be protected under the most stringent federal restrictions.
When those studies were completed during the 1980s, they recommended that the WSAs not be managed as wilderness after all except for a 28,500-acre portion of the Blue Joint WSA.
But Congress did not act on those recommendations at the time, and the WSAs have been the subject of persistent debate and controversy ever since. (The closest Montana's WSAs have come to being deemed wilderness came in 1988, when Congress passed a law that would have made 1.4 million acres of Montana into wilderness, but President Ronald Reagan vetoed that bill.)
While Congress has since designated some 171,000 acres of the study areas as wilderness, the other 663,000 acres have remained in limbo — but a rather protective limbo.
Per Metcalf's 1977 bill, Montana's wilderness study areas have been administered "to maintain their presently existing wilderness character and potential for including in the National Wilderness Preservation System" for 40 years.
But that could change if a bill introduced in December by Montana's newest senator, Republican Steve Daines, passes Congress.
The Protect Public Use of Public Lands Act would release nearly 500,000 acres of land in Montana from the protections granted by Metcalf's 1977 law.
In March, Montana Rep. Greg Gianforte introduced similar legislation in the U.S. House of Representatives. One of Gianforte's bills would release the same lands described in Daines's bill. The other would release more than twenty Bureau of Land Management WSAs in Montana.
This legislation has elicited approval from some, outrage from others.
But those on both sides of the issue — including numerous county commissions in Southwest Montana — point to the same concern as being central to their stand: the issue of public involvement.
When the plane touched down on Wednesday afternoon, Gatchell emphasized that his group isn't asking for blanket wilderness protections for the WSAs that are the subject of Daines's bill. Instead, Gatchell says, his group simply wants a seat at the table in deciding the fate of these public lands.
"I think we've demonstrated that we're open to working with snowmobilers, with mountain bikers, with people so that we maximize and we preserve the areas the way they are and we preserve that vital habitat — and the wildest corridors in the area," Gatchell said.
But he criticizes Daines for failing to collaborate with a diverse range of Montanans.
"What Daines has done is cherry-picked who he's listening to," Gatchell said. "And he's listening only to people that say 'No, we aren't willing to work with anybody.' That's undermining collaboration. On this issue — and on future issues — that's wrong."
Similar concerns led a group of Butte-area residents to draft and sign a letter to the Butte-Silver Bow Council of Commissioners last month in which they expressed concern that the three WSA-related bills currently in Congress would "remove protections on more than 800,000 acres, without first holding public meetings."
Instead of asking the commission to adopt a formal position on the bills themselves, the signatories requested that the commission "ask Sen. Daines and Rep. Gianforte to hold public meetings on these bills in Butte-Silver Bow County."
Earlier this month, commission chairman John Morgan honored that request, sending letters to both Daines and Gianforte. In February, the Anaconda-Deer Lodge County Commission sent its own letter to Daines asking that locals "have the opportunity to be a part of a solution that is the product of a fair, transparent, inclusive and fact-based process."
In an emailed response to questions about the public process surrounding the WSA legislation, Sen. Daines's press secretary Breanna Deutsch confirmed the senator had received the letters from both county commissions. She also stated that Daines "has had countless meetings with local stakeholders over the years and their feedback will continue to guide the planning process — a public process — going forward."
Gianforte also responded to questions via email, stating, "I've received substantial input and support from county commissioners, outdoor recreationists, Montana families and state legislators who want Congress to do what it should have done 40 years ago — unlock our public lands for greater public access."
Gianforte's statement went on to address how public involvement will come into play if his and Sen. Daines's bills are enacted: "Once the WSAs are released to Forest Service and BLM management, no decisions will be made about what to do with these non-wilderness areas without public input. These bills begin that decades-overdue process."
According to Leona Rodreick, public affairs officer the Beaverhead-Deerlodge National Forest, which contains both the West Pioneer and the Sapphire WSAs, none of the Forest Service study areas are recommended for wilderness in the current forest plan. However, the forest plan does recommend these areas to be "inventoried roadless areas."
"If the bill was to pass," Rodreick says, "we would follow the direction from our forest plan."
The most recent Beaverhead-Deerlodge Forest Plan was released in January 2009. National Forests aim to adopt new plans every 10 to 15 years, Rodreick says, "But in reality, it takes a little longer than that."
In part, Rodreick notes, that is a result of the extensive public process they entail: "When we do a forest plan revision, it takes a few years to get it done, because there's a lot of public involvement in a big management plan on a particular forest. … We work with the county and various interested groups to get their input on how we should manage their national forest."
Bill Slaughter, chairperson of the Granite County Commission, says he supports releasing the WSAs for exactly this reason.
"It's the only way for us to once and for all have a management say," Slaughter says.
The border of Ravalli and Granite counties runs right down the middle of the Sapphire WSA, and Slaughter says the area's status as a study area means its management is subject to the whims of government administrators instead of the input of locals.
As a result, he and his fellow commissioners sent a letter to both Montana senators in which they stated their "strong support" for Daines's legislation. But the letter also informed the legislators that the county had "an advisory committee, to be made up of Granite County residents, which will provide ongoing advice to us as a County Commission regarding SB2206 (Daines's bill), any future amendments to SB2206, and regarding forest management in general."
That advisory committee met for the first time this month and is comprised of "environmentalists, ranchers, loggers" and others, Slaughter says.
"It's bigger than if you're for de-listing or against it," Slaughter says. "De-listing would just open up an opportunity to have them managed properly. And we want to know what 'properly' means."
To determine that definition, Slaughter says it's imperative to hear from locals who tend to get drowned out by activists from elsewhere.
"The people that really know how the forest should be managed live here," Slaughter says. "They're locals. They don't represent some snowmobile club from Minnesota."
Commissioners in Beaverhead County have taken a similar position to that of Granite County. In a September letter to Daines, commissioners wrote that "Beaverhead County strongly supports legislation to finally deal with" wilderness study areas. (Earlier this month, two county residents filed a Public Records Act Request seeking correspondence and memorandums between commissioners and Daines and Gianforte "regarding any issue affected Montana public lands, including, but not limited to, Beaverhead County wilderness study areas.")
While proponents of Daines and Gianforte's legislation argue that releasing many of Montana's WSAs will provide an opportunity for locals to finally have input on how these lands are managed through the forest-planning process, opponents of the legislation argue this simply isn't true.
"What you're doing is, you're stripping away protections," Gatchell says. "So the idea that, oh, nothing will really change — that's bull. You're removing legal protection that today says, 'Preserving the historic wilderness character of these areas is important.' That's not a neutral statement. That's saying, 'Wilderness doesn't matter anymore.'"
As for the question of local control, Gatchell says these lands are important, too, for people who don't live in the directly affected counties.
"I don't live in Beaverhead County, but I damn sure want to take my family — and have many times — into the Pioneers," Gatchell says. "We don't want the counties to run the National Forests. That's not their job. That would cut out all other Montanans."
Slaughter acknowledges that the wilderness study areas "belong to the whole country."
"But," he adds, "they don't have to live next to it and make a living from it and they don't have to be here when the damn thing's burning down."
Spokespeople for Daines and Gianforte did not answer direct questions about whether they plan to hold public meetings on their WSA legislation in the future.