EcoFlight Safety Procedures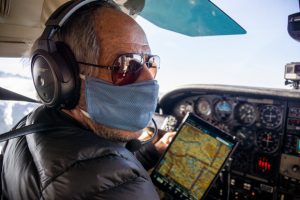 EcoFlight board and staff take safety very seriously, and maintain rigorously high standards for airplane maintenance and pilot training. We endeavor to keep the planes and pilot training to standards outlined by FAA part 135, even though we are only required to follow standards as set forth by FAA part 91.
Our pilots are highly skilled professionals, not volunteers, who fly with focus and dedication to safety, and are very thorough in flight-planning and pre-flight airplane inspections.
Both pilots are certified flight instructors, have been flying for a combined 50 years and together have over 17,000 flying hours.
On the date of an overflight EcoFlight always has someone on the ground monitoring flight operations, and we utilize the latest in-flight tracking hardware used in Mountain Rescue protocols to secure additional flight following. Each landing and take-off is recorded.
Health Precautions & COVID-19 Procedures
EcoFlight continues to take precautions to keep our pilots, passengers, and staff healthy and to
prevent the spread of illnesses like COVID-19 and the flu. Your cooperation and honesty help
keep us flying, thank you!
We ask that all passengers:
Are vaccinated against COVID-19 with the latest recommended boosters for their age/risk group.
If you are not vaccinated, please tell us as soon as possible, and we may be able to take other precautions so that you are able to fly.
Stay home if:

you have any symptoms of illness or allergies, including cough, sneezing, sore throat, runny nose, fever, or other symptoms
you have been around anyone in the past 10 days who is sick or who is positive for COVID-19
you have tested positive for COVID-19 in the past 10 days
you have tested positive for COVID-19 more than 10 days ago but are still having symptoms

Bring and wear a well-fitting KN95 mask in the plane and indoors. At the pilot's discretion, we may allow masks to be removed on flights if all passengers are fully vaccinated.
If you have a unique situation related to health or COVID-19 exposure, we are happy to have a conversation and accommodate you if we can!
PLEASE NOTE: If you arrive to your flight with symptoms of illness, or if you do not meet these requirements and have not talked to us about your situation BEFORE the day of your flight, you will probably not be able to fly with us that day.
Thank you for understanding and doing your part to help keep everyone safe and healthy!
– The EcoFlight Team